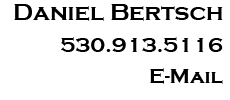 Inspector – owner: Daniel Bertsch, Certified CREIA and ASHI Inspector, Certified Manufactured / Mobile Home Inspector
Experience:
Owner- Inspector Omni Home Inspections since 2003.  I have performed over 2,500 commercial and residential inspections. 
General Contractor since 1983 with a spotless record
Builder of quality homes, multi-unit, and commercial projects from Lake Tahoe to Maui
Construction project management high end residential homes
Multi unit and custom home punch list repair specialist (all phases of construction)
Construction experience began in 1974 while working my way through college at College of the Redwoods  and CSU Humboldt in Humboldt County, CA
Production manager light manufacturing
United States Air Force air traffic controller 1969-1973.  Vietnam combat service.
Experience you can count on:  You will be working with a highly experienced home inspector that has experience that varies from renovating old Victorian homes, constructing passive solar homes, to building new commercial structures.  I know how buildings are put together, and how buildings can fail from improper construction, neglect, material failure and age
Professional Organizations / Qualifications
California Real Estate Inspection Association (CREIA) – Certified Inspector.  CREIA requires a minimum of 30 hours of continuing education each year
American Society of Inspectors (ASHI)- Certified Inspector.  ASHI requires 30 hours of continuing education each year.
Nevada County Association of Realtors, Affiliate
Placer County Association of Realtors, Affiliate
Sutter-Yuba Association of Realtors, Affiliate
EnergyCheckupTM Certified Energy Inspector
Grass Valley-Nevada County Chamber of Commerce
California State General Contractor License # 450163
You can check the status of any contractor's license at this link to the
California State Contractors License Board's License Number Status Check page.
Education
College of the Redwoods, AA
Cabrillo College, Solar Technology
CSU, Humboldt, Industrial Arts
United States AF air traffic control school
Copyright © Omni Home Inspections 2011-2017 All Rights Reserved | site by
descati
Meet the Omni Home Inspection Professional